Golden Child's BoMin might also have a supporting role in the drama "18 Again" but he is for sure catching the attention.
The drama "18 Again" is the remake of the U.S. movie "17 Again" with Zac Efron. It tells the story of a man on the verge of divorcing whose body changed to the way it was looking when he was 18 years old. Kim HaNeul, Yoon SangHyun, and Lee DoHyun are the lead actors. For more about the drama, you can check the cast and summary here.
In this drama, BoMin is acting as the smart and kind high school student Seo JiHo. He has feelings for the daughter of the lead character named Hong SiAh and acted by Roh JeongEui. They know each other since they are young and they are friends at school. BoMin has feelings for her but has yet to confess them to her.
His love story is interesting with its first love vibes and he made viewers fall for his sweet charms and cute feelings. Here are 5 times that especially caught our attention.
Be aware of spoilers (up to episode 6).
1- Catch her falling
Roh JeongEui was walking on the walls while BoMin was standing down next to her. In the end, she tripped and he caught her in a hug.
2- Couldn't stand people saying bad things about her
Violence is never recommended but in this scene, BoMin couldn't hold it anymore when he heard students saying bad things about the girl he likes and her family. It was too much for him to bear that he exploded with anger and started to fight.
3- Killing cute smile
BoMin stopped by the convenience store where Roh JeongEui works part-time. He got hurt while fighting for her and Roh JeongEui put a band-aid on him. He couldn't stop smiling while looking at her.
How could she not blush at this killing cute smile!?
4- Loving stares & curtains
BoMin is also caring and sweet. Roh JeongEui was taking a nap but the sun was bothering her. He was looking at her with loving stares and noticed it so he went to close the curtains while still looking at her.
5- Heart flutering scenes in school lockers
This scene is the latest addition and the most heart fluttering scenes of BoMin in this drama (yet). The two of them were staying late at school and went to look for some documents. When she opened the cabinet the box on it almost fell on her but BoMin caught it up (with one hand!).
While they looked into each other eyes a romantic OST was played. When teachers came into the room, they hid in the small cabinet standing very close to each other holding on their breath ... and even held hands.
When did you fall for BoMin in "18 Again"?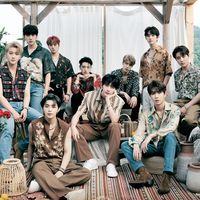 Became a fan of Golden Child
You can now view more their stories
Became a fan of Choi BoMin
You can now view more their stories