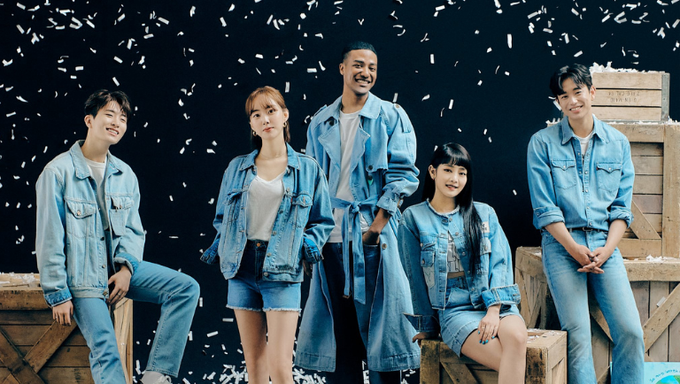 Netflix is back with its first-ever Korean sitcom, "So Not Worth It." It's a feel-good sitcom about a bunch of college students from all over the world, who live in a dormitory and experience life together. It will premiere on Netflix on Jun. 18, racking up a world of hype from netizens worldwide!
The drama is star-studded with Park SeWan (who you may have seen in K-Dramas "Just Dance" and "School 2017") playing a Korean student advisor, of the same name, who heads the dorm. Shin HyunSeung (the rising rookie actor from "Be My Boyfriend") stars in the drama as Jamie, a newcomer who has everyone curious about him. We also have GOT7's YoungJae playing Sam, who is the son of a CEO of a global food chain from Australia. Whilst (G)-IDLE's Minnie debuts her acting career as a student from Thailand and fellow K-Drama lover. Finally, model turned actor Han HyunMin will also play his namesake, who is a Korean student longing to live in the dorms because of his long commute from home. These are our main characters and we're excited to see what antics they get up to.
At first glimpse of the teaser, the show looks like a light-hearted comedy that will have us bingeing in no time. That isn't even a fraction of how good we're anticipating it to be. Read on to find out more reasons why you should look forward to this new K-Drama!
Warning: This article may contain spoilers!
1. Representation. Representation. Representation.
"So Not Worth It" boasts a diverse and multinational cast. Actors Shin HyunSeung, GOT7's YoungJae, and Park SeWan are Korean, including Han HyunMin who is Korean-Nigerian. (G)-IDLE's Minnie is from Thailand and adds to the global representation, along with cast members Carson Allen (from the U.S.), Terris Brown (from the U.S.), and Joakim Sorensen (from Sweden). It will be very exciting for international K-Drama fans to see representation on-screen and be able to relate to the characters on a new level. 
Let's take a detailed look at these three extra characters. Joakim Sorensen plays the character Hans (pictured below on the far left), a Confucianist boy. He sticks closely to his principles but is not well-liked because he tends to only be tolerant of his own behavior. He brags about knowing the most about Korean culture but also finds himself getting swindled easily, due to his gullible nature.
Carson Allen plays a typical free-spirited American who, despite having a temper, is the pillar of the dorm as a person that the other students can run to for advice. One of Carson's best charms, as can be seen in the teaser, is her love for food. We're looking forward to seeing the many sides of her character.
Meanwhile, Terris Brown's character is from Trinidad and Tobago and nicknamed "Casanova Terris" because he constantly has a new romantic partner. He's somewhat of a know-it-all, but he has an amazing sense for knowing when to butt in and out of a situation. This saves him a lot of difficulties in the dorm. His performance is rumored to be one of the strongest points of this drama.
These three have gotten a lot of praise from their producer for their Korean fluency level. He mused that if you weren't looking at them, you would think that they are native Koreans.
Which character, from the entire cast, are you looking forward to seeing on-screen the most?
2. Bringing back sitcoms
Creating a milestone as the first Korean sitcom on Netflix, this K-Drama will be created by some of the best sitcom creators in Korea. Netflix, in their press release, refers to Kwon IkJoon as a "sitcom heavy-weight who has shaped the landscape of Korean style sitcoms." He is the creator behind the legendary dramas "Three Guys and Three Girls" and "Nonstop." "So Not Worth It" is also produced by industry veteran Kim JungSik who worked on "Smashing On Your Back" and "High Kick," and the screenwriters are Seo EunJeong (who wrote "Soonpoong Clinic") and Baek JiHyun (who wrote "Rude Miss YoungAe").
The production team has mentioned that they want to reignite enthusiasm for the sitcom genre with a unique twist to it. It is even going to bring back comedic moments such as the classic K-Drama motif - the kimchi slap. (G)-IDLE's Minnie mentioned that they filmed the shot in one take and she felt very sorry towards GOT7's YoungJae, even though it was all in good spirit for the show.
3. It's filled with K-Culture references
You can also spot some of your favorite actors, actresses, and idols referenced in the drama. (G)-IDLE's Minnie is an avid K-Drama watcher and we already know that she was watching "Crash Landing On You," starring real-life couple Hyun Bin and Son YeJin, from the full trailer. Twitter fans have also noticed that there are K-Pop posters on the walls of the dorms. They spotted a CLC poster for their 2020 release 'Helicopter,' as well as the poster for PENTAGON's album "UNIVERSE: THE BLACK HALL."
The characters being into some of the same artists and actors as their audience makes them that much more relatable. What other K-Culture references do you think will be made in the drama?
There are probably a hundred more reasons why you should look forward to watching "So Not Worth It," but these are just a start. What aspect of the drama are you most looking forward to watching?