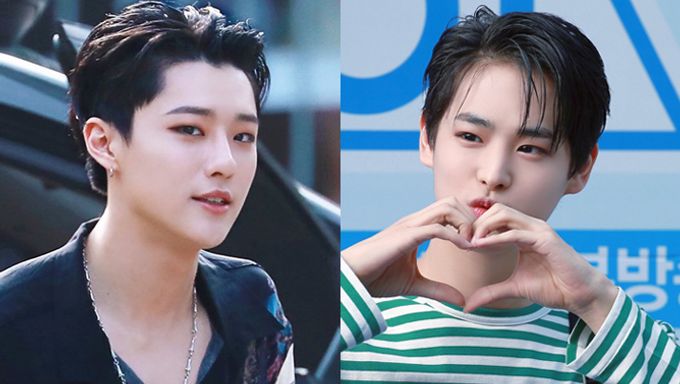 Did you manage to watch the latest episode of Mnet "Produce X 101"? If you did, you would know that the trainees were preparing for their 3rd mission, the concept evaluation.
Based on the previous episode, viewers are very excited for one team that consists of TOP Media's Lee JinHyuk, Plan A's Choi ByungChan, Yuehua's Jo SeungYeon, Source Music's Kim HyunBin, Music Works' Kim KookHeon and MBK's Lee HanGyul. They will be performing to 'Move' that is produced by Zico.
On June 30, the trainees were seen heading for the recording and many fans waited outside of the studio just to catch a glimpse of them.
However, they did not expect the trainees to come out of their vans with such stunning and new transformation. Let's take a look now!
#1 Choi ByungChan
Many were shocked to see that Choi ByungChan had styled his hair with a 'wet' look and in contrast with his sweet dimples, fans are excited to see him perform in such a fierce and powerful stage.
#2 Jo SeungYeon
Appointed as the center for 'Move', Jo SeungYeon amazed many with his dark styling when he stepped out of the van. He was seen with his hair pulled back and completed the look with a long silver necklace.
#3 Kim HyunBin
On the previous episode, Kim HyunBin was nervous being the main rapper for 'Move' but with his tenacity and perseverance, fans believe that he would be able to pull off the stage smoothly. He appeared with a freshly dyed orange-brown hair causing his fans to go 'wow' at his new hair color.
#4 Kim KookHeon
Fans were jokingly saying that Kim KookHeon belongs to other teams as he did not seem to have styled his hair the way like the other trainees performing 'Move'. Nonetheless, they were still amazed by how good looking he looks in real life and wished him all the best!
#5 Lee JinHyuk
Lee JinHyuk was known as one of the trainees that transformed the most as he appeared with a new hair color and perfectly styled hair. Some love the cool vibe he was having and also pointed out how he looked like a vampire.
#6 Lee HanGyul
Lee HanGyul is known as the trainee who looks older than his actual age. Instead of taking it in a bad way, he shared that it is one of his charms and fans agreed too! Just yesterday, Lee HanGyul had once again proved his mature look with the perfect styling and fashion sense.
The stage performances will be aired on July 5, 11 pm KST!
Share with us which trainees you are currently supporting!
Read More : Netizens Noticed This Cute Taste Of "Produce X 101" Trainee Son DongPyo For Cellphone Cases