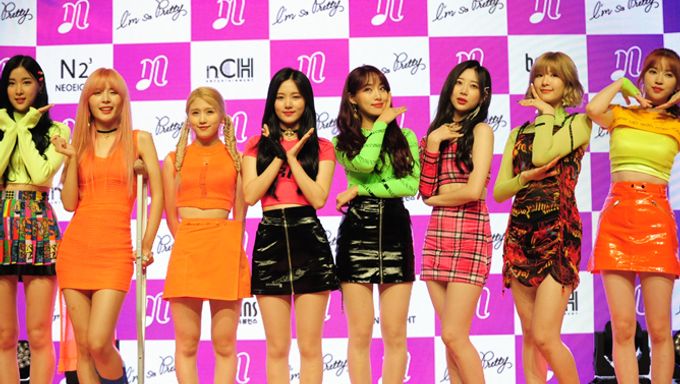 Hailing from the nature, here are 9 girls with unique personalities and musicality that will brighten up your day no matter how bad it might be. Also known as NATURE, the girl group debuted under n.CH Entertainment back in August 2018.
They are Aurora, SaeBom, Lu, ChaeBin, Gaga, Haru, Loha, Uchae, and Sunshine. The 9 girls gathered and greeted their fans for the first time with the debut title track 'Allegro Cantabile' that is a remake of popular anime, "Nodame Cantabile". Looking deeper into the group, NATURE is also divided into 3 sub-units, Charming, Twinkle and Cutie. As LoHa was only introduced later in November, she was not sorted into sub-unit.
Aside from the usual music shows promotions, they have also gone on busking, interacting with their fans on a closer level. On their official YouTube channel, they have also uploaded several dance covers that show off other sides of them.
Who could forget that thanks to their hard work, they were also awarded with "New Artist of the Year" at "Soribada Best-K Music Awards 2018".
Putting their performance and music aside, one reason why fans really love them is because of their funny personalities! Take a look below at the video which SaeBom had uploaded.
[#새봄]
나도 놀래키고 싶어...😿#NATURE #네이처 #SAEBOM pic.twitter.com/nUNeY5yFvr

— NATURE(네이처) (@nature_nchworld) July 19, 2019
Their reality show Mnet "We'll make you feel better" also gave many fans an idea how they are really like off-stage! Make sure to check it out if you have not watched it!
Kpopmap was recently given the opportunity to attend their mini album showcase and they look as bubbly and lively just like in their reality show! Not only that, we also managed to snug an exclusive interview with them.
Find out more on what they have to say for this comeback and more below!
CONGRATULATIONS on releasing group's very first mini-album, "I'm so Pretty"! When I first heard the album, it felt like there was a lot of change the group has put into, while keeping NATURE's bursting energy. Tell us what changes were made for this album!
Aurora: Physically, my hair used to be blonde during "Dream About U" but I have changed it back to dark hair for this one!
SaeBom: While our previous release, "Dream About U" emphasized on cuteness and pureness, "I'm So Pretty" is more confident and fearless which we all worked really hard to reflect that to our audience! I'm sure the fans and the audience can notice the change in every single one of us.
Lu: You can probably notice the change in the song's manner. The lyrics and the attitude of our previous songs were cuter and lady-like I'd say, but this song is more straightforward, 'faux-naif' and a bit devious. We also focused on details in our facial expressions on stage.
ChaeBin: Since the title is "I'm So Pretty", I tried hard to be in a better shape and practiced a lot as well!
Check out our exclusive review!
Haru: I think people will see a more matured version of NATURE.
Loha: The concept of this song is about girls with high self-regard, so the members focused on becoming more confident and to show a refined stage to our fans, we gave ourselves a lot of visual change like changing our hair colors and such.
Uchae: For this album, we tried putting 'girl crush' elements to it and prepared ourselves both mentally and physically.
Sunshine: I think we were able to add more maturity in this album!
What are your favorite track from the album, "I'm So Pretty"? and why?
Aurora: 'A Little Star'. I think this song has the ability to heal and touch your heart when you listen to it.
SaeBom: My favorite pick is 'Race'. The lyrics are very comforting and may help those who are going through hard times.
Lu: I would pick 'Race' as well. I've been a fan of the composer, "Yoon Sang" for a long time and this was one of my favorite tune of his and moreover, I am extremely honored to cover his song! The choreography we have prepared for this song is great as well, which I'm sure the audience would love it!
ChaeBin: For me, it will be 'A Little Star'. It's the first ballad song we have ever recorded as a group and it's a great one! I'm sure everyone will be hooked the moment they hear it!
Haru: The song that I'm constantly listening to is 'A Little Star'! I hope we can perform this song on a big stage!
Loha: I love 'SHUT UP' which is from the second track of our album. Its straightforward and imposing lyrics reminds me a lot of myself!
Uchae: I'm with ChaeBin on this one. The lyrics to 'A Little Star' are so pretty and it moved me from the bottom of my heart.
Sunshine: I'm sure many of our members have already said it but it's the fifth track in our album, 'A Little Star'! Both the melody and the lyrics are amazing and I hope the listeners can engage deeply with the song!
The choreography of 'I'm So Pretty' was made by a renowned choreographer, Sorah Yang. Can you share us how it was to work with her?
Aurora: The choreography was really well-synched with the lyrics which naturally pulled out the best of it!
SaeBom: I admired her and her works since I was a trainee, which made this opportunity such a great honor, but in the other hand I was also under a bit of a pressure because I wanted to do it well.
Lu: It was new challenge for us. It had more waves, musical-like elements, and also had a number of single-file formations. Above all, facial expression was the most important part in this choreography and I had so much fun learning it!
ChaeBin: I used to practice her choreographies and also was evaluated with it during trainee days, so when I heard that she was going to design the choreography, I was more than excited and as expected, it was amazing! Thank you so much Sorah Yang!
https://www.instagram.com/p/BzCNcO-l1fT/
Haru: I was so happy when I first heard about her involvement since I've been following her works for quite long. The choreography itself is beautiful and I enjoy it every time I'm on the stage!
Loha: I still remember when I used to cover her moves in the past. At first, it was hard to believe that she was going to design our choreography and thought that I REALLY need to work hard for this!
Uchae: I was worried that I might not meet the expectation but, the choreography was a great fit for us and it was an honor for all of us!
Sunshine: I'm so thankful for Sorah Yang to design the choreography for 'I'm So Pretty' and every time I'm on the stage, I tell myself that I need to be better than my previous performance.
NATURE is well known to surprise their fans and the public by performing a surprise show in Hongdae and Gangnam like you did in Mnet's Reality Show. Was there any fun episode that you might want to share with us?
Aurora: One time while we were performing, my shoes almost came off!
Lu: When we were preparing for Gangnam busking, we went out early in the morning to promote the show on that very day, and out of nowhere, it started pouring! We got so worried that people might leave or not show up but luckily, the sky started clearing just before our show!
Haru: During the show, the host asked Uchae where she was from and Uchae accidentally answered, "ILBON(Japan)" instead of "ILSAN". That was funny!
Loha: During our show, there were a lot of people from the audience who saw us for the first time and yet, they chanted and supported us as if they have been our fans all along! It was such a pleasant experience for me.
Uchae: We handed out flowers as part of our promotion for the Gangnam show and one of the tourist who was walking by recognized us right away! I felt so thankful and proud of us.
Sunshine: Back when we were promoting our debut single, we held a busking around Hongdae, Seoul. I remember it was extremely hot which made me sweat like crazy and right after my performance, I used up all sides of my towel to wipe'em!
Just like the lyrics of the song, 'I'm So Pretty', who among the members resemble "Fox" image the most? and why?
Aurora: SaeBom. Both her appearance and her atmosphere is so sexy and she is gorgeous when she dances. I think she is filled with fox-like charms and beauty.
SaeBom: I'd say Lu! It's because she is great at taking care of others.
[#루]
리프들~ 하늘에 비가뚫린듯 비가내리네요!!! 리프 못봐서 슬픈 루의 눈물인가 ㅜㅜ 저는 열심히 치료중이에요 늘 고맙고 사랑해요 그리고 팬카페 놀러와요 ❤️😚#NATURE #네이처 #LU #내가좀예뻐 #ImSoPretty pic.twitter.com/Hvb4knCTQL

— NATURE(네이처) (@nature_nchworld) July 27, 2019
ChaeBin: I pick Lu! She is capable of making many facial expressions!
Haru: I think SaeBom unni is like a sexy fox and her image fits well with the song!
Do you know all the members of NATURE?
Uchae: SaeBom unni might not have the personality like a fox but the way she expresses the lyrics thorough facial expression is just exceptional!
[#새봄]
🐯크앙#NATURE #네이처 #SAEBOM #내가좀예뻐 #ImSoPretty #맛점하세요 pic.twitter.com/Hz5w9xT3CF

— NATURE(네이처) (@nature_nchworld) July 30, 2019
Sunshine: I think Lu unni depicts the fox image the most! She captured both the cute and sexy image really well and I think it came out in our photoshoot and music video!
One-year anniversary of the group's debut is coming up. What do you think has changed since your debut?
SaeBom: I think the number of NATURE being mentioned in the social media has grown substantially and there are a lot more people who recognizes us:)
Lu: My attitude towards the stage I guess? The desire to be better and more professional as a performer has grown a lot since then.
ChaeBin: Since we all have been spending time together for a long time, our performance is more synced and I can tell what others are trying to say just by the looks of their eyes.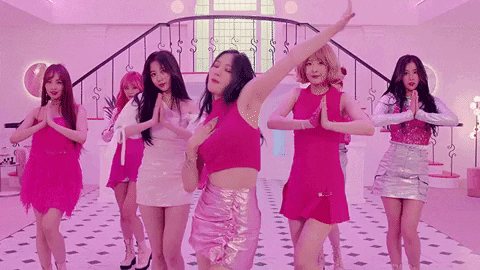 Haru: I think the teamwork has got a lot better! Not that it was bad in the first place but as time passed, it got way better!
Loha: I feel like I am more relaxed on stage and also figured out how to show the best side of me during performance. My stage manners are getting better as well!
Uchae: At first, we had hard time finding the camera while we were performing and was clumsy with attaching mics and in-ear monitors but now, we can put it on all ourselves and finding a camera is not a problem anymore!
Sunshine: The harmony between us and the LEAF is better than ever, and whenever we hear their chant, it strengthens our energy while we perform!
[#루]
리프들~ 오늘은 8월3일 네이처가 데뷔한지 1년 되는 날이에요!!!! 지금까지 우리랑 함께 해줘서 고맙고 앞으로 행복길만 같이걸어요 사랑해요 네이처❤️리프 도장쾅쾅 움뫄💋#NATURE #네이처 #LU #데뷔1주년 #리프고마워요 #항상함께해요 #루스타그램 pic.twitter.com/2qC6H52otG

— NATURE(네이처) (@nature_nchworld) August 3, 2019
Do you have close friends besides the members?
Aurora: EVERGLOW's Yiren is a close friend of mine!
SaeBom: I'm friends with YuJu from Cherry Bullet who is also the same age as me, and Hong SooAh unni! We both appeared in the show, "Law of the Jungle"!
[#새봄]
여러분! 오늘 정글의법칙 제 활약을 모두 보셨나요? 아직이시라면 지금 봐주세요~🤩😆#NATURE #네이처 #SAEBOM #정법 #정글의법칙 pic.twitter.com/muP0NSxOrq

— NATURE(네이처) (@nature_nchworld) August 3, 2019
Lu: Chef Lee YeonBok, Han Boreum unni, Kim YunSang oppa, GOT7 YuGyeom and OH MY GIRL Binnie!
Haru: As NATURE, we're close with NORAZO sunbae-nim! We like them so much that we actually covered one of their song, "Cider" in the past! We love you sunbae-nim!!
Does NATURE have plans to meet your global fans this year? Do you have a country or a city that you wish to visit?
Aurora: I would love to see the fans from my mother country, China!
SaeBom: Wherever the LEAF is at, I want to go visit!
Lu: We have visited Japan, which is also Haru's country during KCON, but we haven't had the chance to visit Aurora's country, China. I hope we can visit their one day.
ChaeBin: I would like to visit NYC!
Loha: My uncle's family all lives in the United States. Since I have never shown them our live performance, I want to go visit and show them!
Uchae: I want to perform in China since it's Aurora unni's country!
Tell us what NATURE's appealing point is, for the global audience who might have heard of you for the first time!
Aurora: NATURE has so many colors and talents. Like a chameleon, we can fit in various kinds of concepts!
SaeBom: NATURE is always lively and full of positive energy!! Also, we look really astonishing when we stand together as a group!
Lu: NATURE is bright, positive and gives a happy energy. Also, we are tall and pretty! (haha) Moreover, we're the type of group that, the more you see us, the more you want be friends with! Hope you like us!
[#하루]
이쁜 새봄 언니 랑 귀여운 하루??💗ㅎㅎㅎ #NATURE #네이처 #HARU #새봄 #SAEBOM #내가좀예뻐 #ImSoPretty pic.twitter.com/KO0ffwaRI9

— NATURE(네이처) (@nature_nchworld) July 24, 2019
ChaeBin: My charm is that I'm more of an easy-going person than you might think!
Haru: We have a typical brightness and strong energy that I'm sure will make the viewers feel happy!
Loha: My charming point is that once you fall for me, there is no exit out! (lol) and also, I instantly change into a dance machine when a song comes out!
Uchae: Like our chant, we can make people happy. We're always active and filled with positive energy!
Sunshine: Each member has their own color and charm that I'm certain that everyone can enjoy watching!
As this marks the group's first ever mini-album, what do you want to achieve from it?
Aurora: I hope a lot of people can enjoy our album, gain more interest in us and eventually love us even more!
SaeBom: I wish that the audience can notice that NATURE is a hard-working group and also, hope our song can be in the charts!
Lu: We have filled up the album with various genres. After listening to our album, I hope people can think that NATURE is a group that is capable of showing numerous colors in different style of music.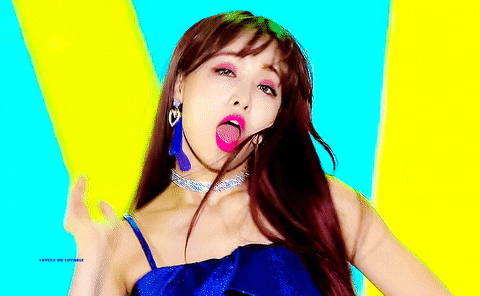 ChaeBin: I hope NATURE can be successful in the music charts!
Haru: We'll do our best to make it in the charts!! I hope a lot of people will get to know us!
Loha: It's our wish for NATURE to be listed on the charts!
Uchae: This album is NATURE's new attempt. I wish fans and the viewers can acknowledge that we can fit into various concepts!
Sunshine: Filled with various colors, I hope that our album can reach out to a lot of people!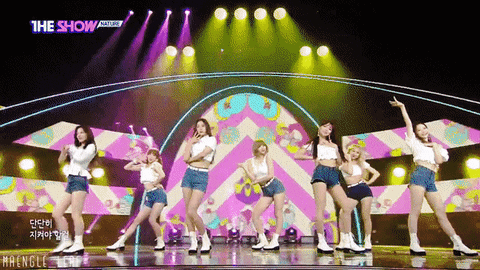 Lastly, a message to your global LEAF!
Aurora: LEAF! Thank you for always being with us and hope you will be with us for more days to come! SARANGHAE!
SaeBom: LEAF is the source of my strength! I love you and thank you SO SO much! I'll try harder to be better. Be safe and hope you enjoy this hot summer with NATURE!!?
Lu: Dear our international LEAF! Hi, we are NATURE. Our new album "I'm So Pretty" is out now! So please check it out. Thank you!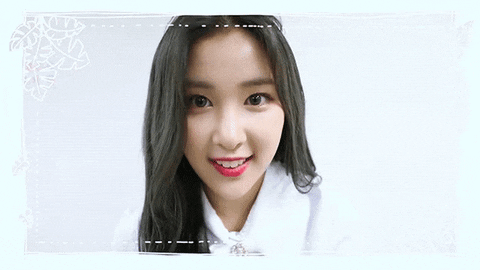 ChaeBin: LEAF! Thank you for supporting us and always being there for us! SARANGHAE-YO LEAF! ?
Haru: I can't live without our LEAF! I love you so much! ?
Loha: We'll try harder and become a better artist. So LEAF, let's keep our holding hands tight and stay with us forever! We love you! ❤️❤️
Uchae: Our first mini-album is filled with surprises so I hope you can enjoy the songs we have prepared for you! We'll try harder to become a better group so hope you look forward to it and support NATURE!
Sunshine: Hi! This is NATURE's maknae, Sunshine~! Although we haven't met in person as we're apart, we'll do our best in every stages we're on, so I hope you keep on supporting us ❤️ Thank you!!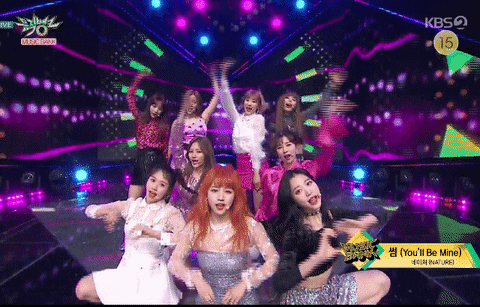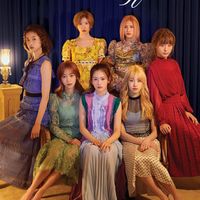 Became a fan of NATURE
You can now view more their stories